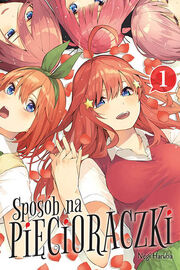 The trick to quintuplets (Polish: Sposób na pięcioraczki) is the Polish name/title for 5-toubun no Hanayome manga published by Studio JG in Poland. Each physical copy of the book costs 22,90 zł as stated on the cover. The series was a part of the publisher's 2020 Autumn Manga Festival.
List of volumes
The trick to quintuplets 1: 23 October 2020 (paperback)[1]
The trick to quintuplets 2: 27 January 2021 (paperback)[2]
Pre-Order bonuses
Every pre-order comes with with two new cards for a memory matching game.[3]
Autumn Manga Festival
For pre-ordering at least the first volume of at least three of the series featured in the festival, fans could get a limited edition art card signed by original author Negi Haruba.[4]
Difference(s) Between the Japanese and Polish Volume
There is no significant difference between the Japanese and Polish version, except the naming of characters and places.
Fuutarou's name that is romanized as "Futaro."
Gallery