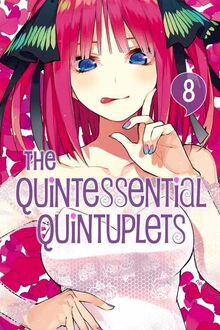 The Quintessential Quintuplets is the English localization of 5-toubun no Hanayome (Manga) published by Kodansha Comic in the USA.
As of July 2019, there are 9 digital volumes and 4 paperback volumes available.
List of English Volumes
Dates for future releases may be changed due to the publisher's situation and condition.
Differences from the Japanese Volume
There is no significant difference between the Japanese and English version, except the naming of characters and places.
Fuutarou's name that is romanized as "Futaro."
The Nakano Quintuplets' previous school is Black Rose Girls School.
Gallery
Trivia
References