| | |
| --- | --- |
| | This article contains spoilers from the manga that has not been shown in the anime. Please continue reading at your own risks. |
| | |
| --- | --- |
| | This article needs to be updated. Please update this page to include recent events and/or newly available information. |
Young Nakano, or Lolikano by the community, refers to a young girl that Fuutarou Uesugi encountered during the Kyoto school trip five years prior to the main story. She has made several appearances in Fuutarou's numerous recollections in the series. She can also be referred to as the Girl in the Photograph.
Overview
Identity
Related article: Rena
She is one of the Nakano Quintuplets. However, due to the quintuplets' identical physical appearance at the time, it is unknown who the Young Nakano Fuutarou Uesugi met. It can also be said that Fuutarou encountered more than one of the young quintuplets.
Relations with the Nakano Quintuplets
Plot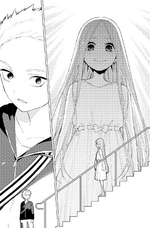 In the hospital, Itsuki persistently questions Fuutarou on why he studies. Fuutarou well recalls the encounter he had with a young girl that changed his life. Five years ago, Fuutarou along with his four classmates were on a school field trip to Kyoto. Because of a certain incidence, Fuutarou felt excluded from his group of friends, and left alone. Some time later, a woman accused Fuutarou of sneaking photos of her, and two policemen near the scene came and began inquiring him. A girl voice emerged from behind and claimed that Fuutarou is innocent. Fuutarou looked back and saw a young girl smiling at him. At present, Fuutarou then ends his story with jokes, much to Itsuki's disappointment. ("Together, Today with Tumult in Kyoto")
Quote
"I'm gonna set an example for everyone!" - Young Nakano [1]
"Hey! Today i met a really interesting boy!"[2]
Trivia
Young Nakano appears in Chapter 85.[3]
References
Community content is available under
CC-BY-SA
unless otherwise noted.