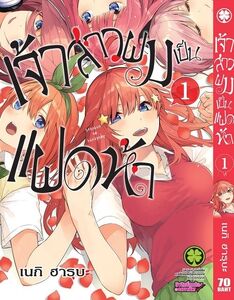 My Bride is a Quintuplet (Thai: เจ้าสาวผมเป็นแฝดห้า) is the Thai name/title for 5-toubun no Hanayome manga published by Luckpim Publishing in Thailand. Each physical copy of the book costs 70 Thai Baht, as stated on the cover. But starting from volume 5, each costs 80 instead. Luckpim Publishing completed the localization as of August 2020.
Special Editions
For Volume 14, Luckpim Publishing offered a "Collector Box" edition, which comes with a collector box, a paperback copy of Volume 14. And depending on the edition, an outer cover of Volume 14 in a Quintuplet's Edition, or all five quintuplet covers.
List of Thai Volumes
Names
This section notes out the name in Thai for characters and locations, as officially transated.
Gallery
Trivia
References