| | |
| --- | --- |
| | This article lacks information and requires expansion. Please expand this page to include missing information to help improve the article. |
The headphones used and worn by Miku Nakano in the 5-toubun no Hanayome series.
Description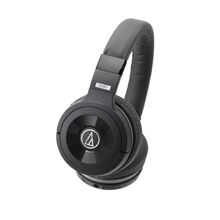 Miku Nakano's first pair of headphones resemble the Audio-Technica ATH-WS99BT, which are real-life wireless headphones designed and manufactured by Audio-Technica Corporation. Although in the series, the two headphones have slightly modified ear cups and ear cup logos.
Her second headphones are identical to the Audio-Technica ATH-WS990BT. The second pair of headphones are a replacement to her other similarly-branded headphones which stopped functioning due to the event in the near-end of the Seven Goodbyes Arc.[1]
The triangle on the headphones may also represent Miku as being the third of the quintuplets.
Other
Negi Haruba received a pair similar to Miku's second headphones (ATH-WS990BT) from Audio-Technica.
References