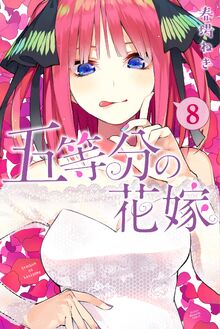 5Toubun no Hanayome Manga began serialization in Kodansha's Weekly Shounen Magazine since August 9, 2017, and has been compiled into 6 Japanese volumes as of October 2018. The manga is released on a weekly basis.
5Toubun no Hanayome is published digitally in English by Kodansha USA under their Kodansha Comics imprint, and 5 English volumes were published so far. The official English title of the series is "The Quintessential Quintuplets".
Volume Information
> Related Article : "Extra Bonus Comic"
Volume Covers
Volume 1 cover features Itsuki Nakano and her sisters' partial shots.
The cover of volume 2 until 6 feature one Nakano Quintuplets in their personalized student uniform with a colored flower petals unique to each one of them in the background.
The cover for volume 7 and onwards feature one sister in western wedding dress.
Inside Covers
Each volume has an illustration of a flower bouquet with the series' romanized title (stylized as "5toubun no hanayome" in the Japanese volume, "the quintessential quintuplets" in the english version), author name, and volume number inside it.
The filler page has a picture of a diamond ring with the word "5toubun no hanayome" (Japanese volume) or "the quintessential quintuplets" (English volume) in the middle.
Character Introduction Page
Every volume has an introduction about the Bride, all five Nakano Quintuplets, Fuutarou, and other characters. Each girl's introduction box contain various miscellaneous info about them and differ from volume to volume. There is also a "Quints Memo" box describing the Nakano Quintuplets' personalities and traits.
Special Extra Comics
A short comic near the end of each volume, featuring the Nakano Quintuplets and other character's daily life.
Next Volume Preview
A page that contains various cutscenes from the upcoming volume, author notes, editor commentary, and any announcements related to the series.
Volumes and Chapters
Chapters titles are taken from the official English release.
Chapters Not Yet Published in Volume Format
The following chapters have appeared in the magazine but have yet to be reprinted in the volume/tankoubon, as collected volumes of 5Toubun no Hanayome are generally released every two or three months. 
69. Welcome to Class 3-1
70. The Responsibilities of the Class Representative
71. Advantage
Sales
The series reached one million prints mark after 1 year and 2 months of publications[1].
In November 2018, there are 7 Japanese volumes published with 1.3 million print counts[2].
Around the time the first episode airs, mid January 2019, Negi Haruba tweeted about having 2 million prints for 7 volumes.[3]
Trivia
References
Community content is available under
CC-BY-SA
unless otherwise noted.