Kore Kara mo Gotoubun (これからも五等分, Kore Kara mo Gotōbun?) is a character song of 5-toubun no Hanayome anime. It is performed by a band called "Nakano-ke no Itsutsugo."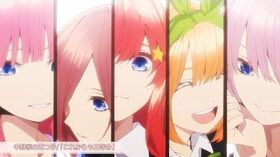 Artists
Vocalists
Nakano-ke no Itsutsugo (中野家の五つ子?), literally meaning The Quintuplets of Nakano, is a band name given to a group of Voice Actor who voice the Nakano quintuplets, including:
Composers
Gotoubun no Kimochi is arranged by Shuho Mitani and composed by Mayumi Kaneko.
Tracklists
Opening Theme Tracklist
Kore Kara mo Gotoubun (これからも五等分?)
Kore Kara mo Gotoubun (Instrumental) (これからも五等分 (インストゥルメンタル)?)
Gallery
Audios
Lyrics