Gotoubun no Kimochi
(五等分の気持ち,
Go Tōbun no Kimochi
?
. English: "Five Equal Feelings") is the opening theme of
5Toubun no Hanayome
anime. It is performed by a band called Nakano-ke no Itsutsugo.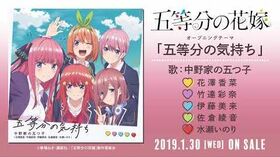 Artists
Vocalists
Nakano-ke no Itsutsugo (中野家の五つ子?), literally meaning The Five Sisters of Nakano, is a band name given to a group of seiyuu who voice the Nakano quintuplets, including:
Composers
Gotoubun no Kimochi is arranged and composed by Nobuharu Saito (斉藤 信治, Saitō Nobuharu?) and Shun Aratame (新田目 駿, Aratame Shun?)
Tracklist
Characters in Opening Theme
List of characters in order of their appearance :
Media
Lyrics
TV size
喜びも(喜びも)
悲しみも(悲しみも)
あなたさえ
五等分なんです
1つ: つくり笑いも見抜かれ
2つ: あなたなんか大嫌いよ!
3つ: 真っ直ぐなこの気持気づいて
4つ: 気が付くとだんだん
5つ: 分かりあえたね
勉強だけじゃなくて 君を知りたいよ
大嫌いから(大嫌いから)
大好きへと(大好きへと)
変わる心について行けないよ
どんなことも(どんなことも)
あなたさえ(あなたさえ)
届くんです でも私…私はあなたが好きよ

Fuutarou-kun Uesugi, okinasai yo!!
Fuutarouu~~
Uesugi-San
Uesugi-kun, Okite
Yorokobi mo (Yorokobi mo)
Kanashimi mo (Kanashimi mo)
Anata sae
Gotoubun nandesu
Hitotsu: tsukuriwarai mo minukare
Futatsu: anta nanka daikirai yo!
Mittsu: massugu na kono kimochi kizuite
Yottsu: ki ga tsuku to dandan
Itsutsu: wakariaeta ne

benkyou dake janakute kimi o shiritai yo
Daikirai kara (daikirai kara)
Daisuki e to (daisuki e to)
Kawaru kokoro ni tsuite ikenai yo
Donna koto mo (donna koto mo)
Anata sae (anata sae)
Gotoubun desu
Demo
Watashi
Watashi
Watashi
Watashi wa
Anata ga suki yo
Full version
Trivia
References
Community content is available under
CC-BY-SA
unless otherwise noted.