Gotoubun no Kimochi
(五等分の気持ち,
Go Tōbun no Kimochi
?
. English: "Five Equal Feelings") is the opening theme of
5Toubun no Hanayome
anime. It is performed by a band called Nakano-ke no Itsutsugo.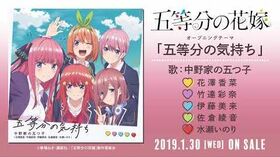 Artists
Vocalists
Nakano-ke no Itsutsugo (中野家の五つ子?), literally meaning The Five Sisters of Nakano, is a band name given to a group of seiyuu who voice the Nakano quintuplets, including:
Composers
Gotoubun no Kimochi is arranged and composed by Nobuharu Saito (斉藤 信治, Saitō Nobuharu?) and Shun Aratame (新田目 駿, Aratame Shun?)
Tracklist
Characters in Opening Theme
List of characters in order of their appearance :
Gallery
Lyrics
TV size
Full version
Fuutarou-kun Uesugi! Oki nasai yo! ? Fuutaro ~~!! Uesugi-sa ~ n! ! Uesugi-kun okite?
Yorokobi mo (yorokobi mo) Kanashimi mo (kanashimi mo) Anata sae Gotoubun nandesu
Hitotsu tsukuriwarai mo minuka re Futatsu anta nanka daikirai yo Mittsu massuguna kono kimochi kidzuite Yottsu kigatsuku to dandan Itsutsu wakari aeta ne
Benkyou dake janakute kimi o shiritai yo
Daikirai kara (daikirai kara) Daisuki e to (daisuki e to) Kawaru kokoro ni tsuite ikenai yo
Donna koto mo (donna koto mo) Anata sae (anata sae) Gotoubun desu
Demo, Watashi
Watashi
Watashi
Watashi
Watashi wa
Anata ga suki yo

Sukoshi fukuzatsu ni kokoro no naka Demo kawatte yuku kimochi Zutto kon'na kankei tsudzuitara īnoni na
Wasure rarenai omoide mo Korekara fueru sutōrī mo Anata nashidattara imiganai dame yo
Zutto soba de (zutto soba de) Oshiete ne (oshiete ne) Dakedo katte ni Mune no kodō takanaru
Unmei datte (unmei datte) Shinji rareru (shinji rareru) On'naji kimochi ne
Mata itsuka
Itsuka
Itsuka
Itsuka
Kono hi o
Yume ni miru ka na

Sukoshi dzutsu kawaru omoi Aseri ya iradachi yawaraide ku Shinji kireru jishin Mune no oku ni kakure teru kotoba Amae beta dakedo ī ndesu ka tte Watashi tsuiteyuku wa
Itsu made mo Wasurenai Deaeta kiseki Guuzen janai Sou deshou?
Daikirai kara (daikirai kara) Daisuki e to (daisuki e to) Kawaru kokoro ni tsuite ikitai yo
Don'na koto mo (don'na koto mo) Anata sae (anata sae) Gotoubun desu
Demo, Watashi
Watashi
Watashi
Watashi
Watashi wa
Zutto
Zutto
Zutto
Zutto
Anata ni 
Ai o chikaimasu

We are the brides! We are the brides! We are the brides! We are the brides!
Please
Trivia
References