Gotoubun no Kimochi
(五等分の気持ち,
Go-tōbun no Kimochi
?
. English: "Five Equal Feelings") is the opening theme of
5Toubun no Hanayome
anime. It is performed by a band called Nakano-ke no Itsutsugo.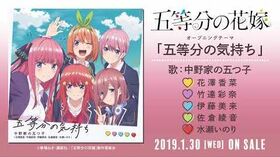 Artists
Vocalists
Nakano-ke no Itsutsugo (中野家の五つ子?), literally meaning The Quintuplets of Nakano, is a band name given to a group of Voice Actor who voice the Nakano quintuplets, including:
Composers
Gotoubun no Kimochi is arranged and composed by Nobuharu Saito (斉藤 信治, Saitō Nobuharu?).
Tracklist
Characters in Opening Theme
List of characters in order of their appearance :
Gallery
Audios
Does not work on iPad, or any medium that does not support the .ogg audio format.
| No. | Songs | Duration | Audio |
| --- | --- | --- | --- |
| 01 | Gotoubun no Kimochi | 03:42 | |
| 02 | Gotoubun no Kimochi (TV Edit) | 01:33 | |
| 03 | Gotoubun no Kimochi (Instrumental) | 03:42 | |
Lyrics
TV size
Ichika • Nino • Miku • Yotsuba • Itsuki

フータローくん?
上杉!起きなさいよ!?
フータロ~~!!
上杉さ~ん!!
上杉君起きて?

喜びも (喜びも) 悲しみも (悲しみも)
あなたさえ
五等分なんです

ひとつ 作り笑いも見抜かれ
ふたつ あんたなんか大嫌いよ!
みっつ まっすぐなこの気持 気づいて
よっつ 気がつくとだんだん
いつつ わかりあえたね

勉強だけじゃなくて 君を知りたいよ

大嫌いから(大嫌いから)
大好きへと(大好きへと)
変わる心に ついて行けないよ

どんなことも(どんなことも)
あなたさえ(あなたさえ)
五等分です
でも私 私 Template:Miku 私 私は

あなたが好きよ

We are the brides! We are the brides!
We are the brides! We are the brides!
Please
Ichika • Nino • Miku • Yotsuba • Itsuki

Fūtarō-kun
Uesugi, Okinasai yo!!
Fūtarō~
Uesugi-san!!
Uesugi-kun, Okite

Yorokobi mo (Yorokobi mo) Kanashimi mo (Kanashimi mo)
Anata sae
Gotōbun nandesu

Hitotsu: Tsukuriwarai mo minukare
Futatsu: Anta nanka daikirai yo!
Mittsu: Massugu na kono kimochi kizuite
Yottsu: Ki ga tsuku to dandan
Itsutsu: Wakari-aeta ne

Benkyō dake ja nakute kimi o shiritai yo

Daikirai kara (daikirai kara)
Daisuki e to (daisuki e to)
Kawaru kokoro ni tsuite-ikenai yo

Donna koto mo (donna koto mo)
Anata sae (anata sae)
Gotōbun desu
Demo, Watashi Watashi Watashi Watashi Watashi wa
Anata ga suki yo

We are the brides! We are the brides!
We are the brides! We are the brides!
Please

Ichika • Nino • Miku • Yotsuba • Itsuki

Fuutarou
Uesugi, wake up!!
Fuutarou~~
Mister Uesugi!!
Uesugi, wake up

Joy (Joy) Sadness (Sadness)
or even you
Are to be shared in five

First: See even through a fake smile
Second: I hate you!
Third: Notice this straightforward feeling
Fourth: When you notice
Fifth: We can understand each other

Not just learning, we want to know you too.

From hate (from hate)
To love (to love)
This changing heart cannot be followed

No matter what (no matter what)
Even you (even you)
All are to be shared in five
But I I I I I love you

We are the brides! We are the brides!
We are the brides! We are the brides!
Please
Full version
Ichika • Nino • Miku • Yotsuba • Itsuki

フータローくん?
上杉!起きなさいよ!?
フータロ~~!!
上杉さ~ん!!
上杉君起きて?

喜びも (喜びも) 悲しみも (悲しみも)
あなたさえ
五等分なんです

ひとつ 作り笑いも見抜かれ
ふたつ あんたなんか大嫌いよ!
みっつ  まっすぐなこの気持 気づいて
よおつ 気がつくとだんだん
いつつ わかりあえたね

勉強だけじゃなくて 君を知りたいよ

大嫌いから(大嫌いから)
大好きへと(大好きへと)
変わる心に ついていけないよ

どんなことも(どんなことも)
あなたさえ(あなたさえ)
五等分です
でも私 私 Template:Miku 私 私は
あなたが好きよ

少し複雑に心の中
でも変わってゆく気持ち
ずっとこんな関係続いたら いいのにな
忘れられない思い出も
これから増えるストーリーも
あなたなしだったら 意味がないだめよ

ずっとそばで(ずっとそばで)
教えてね(教えてね)
だけど勝手に 胸の鼓動 高鳴る

運命だって(運命だって)
信じられる(信じられる)
おんなじ気持ちね
またいつか いつか いつか いつか この日を
夢に見るかな

少しづつ変わる思い
焦りや苛立ち和らいでく
信じきれる自信
胸の奥に隠れてる言葉
甘えベタだけどいいんですかって
私ついて行くわ

いつまでも 忘れない 出会えた奇跡 偶然じゃない そうでしょ?

大嫌いから(大嫌いから)
大好きへと(大好きへと)
変わる心に ついていきたいよ

どんなことも(どんなことも)
あなたさえ(あなたさえ)
五等分です
でも私 私 Template:Miku 私 私は
ずっと ずっと ずっと ずっと あなたに
愛を誓います

We are the brides!We are the brides!
We are the brides!We are the brides!
Please
Ichika • Nino • Miku • Yotsuba • Itsuki

Fūtarō-kun
Uesugi, Okinasai yo!!
Fūtarō~
Uesugi-san!!
Uesugi-kun, Okite

Yorokobi mo (Yorokobi mo) Kanashimi mo (Kanashimi mo)
Anata sae
Gotōbun nandesu

Hitotsu: Tsukuriwarai mo Minukare
Futatsu: Anta nanka Daikirai yo!
Mittsu: Massugu na Kono Kimochi Kizuite
Yottsu: Ki ga Tsuku to Dandan
Itsutsu: Wakari-aeta ne

Benkyō dake ja nakute Kimi o Shiritai yo

Daikirai kara (Daikirai kara)
Daisuki e to (Daisuki e to)
Kawaru kokoro ni Tsuite-ikenai yo

Donna Koto mo (Donna Koto mo)
Anata sae (anata sae)
Gotōbun desu
Demo, Watashi Watashi Watashi Watashi Watashi wa

Anata ga Suki yo

Sukoshi Fukuzatsu ni Kokoro no Naka
Demo kawatte-yuku Kimochi
Zutto konna kankei tsuzuitara ī noni na
Wasurerarenai Omoide mo
Kore kara Fueru Sutōrī mo
Anata Nashi dattara Imi ga nai dame yo

Zutto Soba de (Zutto Soba de)
Oshiete ne (Oshiete ne)
Dakedo katte ni Mune no Kodō Takanaru

Unmei datte (Unmei datte)
Shinjirareru (Shinjirareru)
On'naji Kimochi ne
Mata Itsuka Itsuka Itsuka Itsuka Kono Hi o
Yume ni miru ka na

Sukoshi-zutsu Kawaru Omoi
Aseri ya Iradachi Yawaraideku
Shinji-kireru Jishin
Mune no Oku ni Kakureteru Kotoba
Amae-beta dakedo īndesuka-tte
Watashi Tsuite-yuku wa

Itsu made mo
Wasurenai
Deaeta Kiseki
Gūzen ja nai
Sou deshou?

Daikirai kara (Daikirai kara)
Daisuki e to (Daisuki e to)
Kawaru kokoro ni Tsuite ikitai yo

Donna koto mo (donna koto mo)
Anata sae (anata sae)
Gotōbun desu

Demo, Watashi Watashi Watashi Watashi Watashi wa
Zutto Zutto Zutto Zutto Anata ni
Ai o Chikaimasu

We are the brides!We are the brides!
We are the brides!We are the brides!
Please
Ichika • Nino • Miku • Yotsuba • Itsuki

Fuutarou
Uesugi, wake up!!
Fuutarou~~
Mister Uesugi!!
Uesugi, wake up

Joy (Joy) Sadness (Sadness)
or even you
are to be shared in five

First: See even through a fake smile
Second: I hate you!
Third: Notice this straightforward feeling
Yottsu: When you notice
Itsutsu: We can understand each other

Not just academic, we want to know you too

From hate (from hate)
To love (to love)
This changing heart cannot be followed

No matter what (no matter what)
Even you (even you)
All are to be shared in five
But I I I I I love you

The complication building up little by little in the heart

But the changing emotion
It would be good if this relationship will last
The unforgettable memory
And the story that will increase from here on
If you weren't there, there would be no meaning, and it's a no-go

Please, by my side (please, by my side)
Teach me (teach me)
But on its own, pulse of the chest is raising

Even fate (even fate)
Can be trusted (can be trusted)
We feel the same
Let's again someday again someday again someday again someday , this day,
see it in the dream

The feeling that changes bit-by-bit
Soften out the impatience and irritation
The confident to trust in yourself
The words hidden inside
"I am not good at pampering, but is it fine?"
I will follow you

No matter when
It cannot be forgotten
The miracle of meeting
It's not by chance
Is it?

From hate (from hate)
To love (to love)
This changing heart, I want to follow it

No matter what (no matter what)
Even you (even you)
All are to be shared in five
But I I I I I
have always have always have always have always to you
Vowed love

We are the brides! We are the brides!
We are the brides! We are the brides!
Please
Trivia
References