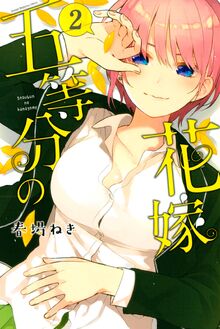 5Toubun no Hanayome, also known as The Quintessential Quintuplets, is a Japanese romance manga series written and illustrated by Negi Haruba. The manga started off as an one-shot, which quickly gained popularity among readers. The series has been serialized weekly in Weekly Shounen Magazine since August 2017 and published digitally in English by Kodansha Comics since June 2018.
The manga gets an anime adaptation on its 49th chapter [1] and reaches 1 million prints after 1 year of publications.[2][3] As of January 2019, there are 7 Japanese volumes published with 1.3 million print counts.[4]
History
> Related Article : 5Toubun no Hanayome Anime
Negi finished his previous work Rengoku no Karma and Vampire Killer in 2015.
In February 2017, he published 5Toubun no Hanayome Oneshot on the Weekly Shounen Magazine's 8th issue. Thanks to positive responses of the readers, the series is published in the magazine's 36th/37th combined issue (August 2017).[5] 
In August 2018, the series' first anniversary, a TV anime adaptation is announced by TBS, and will air in January 2019.
Plot
> Related Article : Story Arc
Fuutarou Uesugi is a poor & anti-social top student. One day, he gets a job tutoring a rich family that's new to town. Fuutarou's soon-to-be students are revealed to be his new classmates, Itsuki Nakano and her four quintuplet sisters. Despite the girls' poor first impression of Fuutarou, he tries seriously to do his job, only to find they have terrible grades and terribly complex personalities.
Style
> Related Article : "Negi's Shoes Panel"
Negi draws the series with above average level of details.[6][7][8][9]
Character Design
The characters' overall design are sharp and more realistic looking: they have varied facial expression,[10][11][12][13] the outfits are drawn properly (sometimes become the main focus of the page),[14][15][16][17][18] and their body language is always on point.[19][20][21][22]
Background Character
Most of the background characters have a good amount of details: their eyes are drawn (as opposed to just silhouette),[23][24][25][26] have distinct emotions,[27][28][29][30] and each of their activities are shown.[31][32][33][34] 
Setting
Background settings/scenes also drawn precisely, and small details (such as the leaves on a tree, random items in the surroundings, or faraway objects) are recognized in a glance. One of Negi's unique traits is highly detailed & realistic looking shoe panel. See Negi's Shoes Panel
Volume Information
> Related Article : "List of Chapters and Volumes"
> Related Article : "Extra Bonus Comic"
Volume Covers
Volume 1 cover features Itsuki Nakano and her sisters' partial shots.
The cover of volume 2 until 6 feature one Nakano Quintuplets girl with a colored flower petals unique to each one of them in the background.
The cover for volume 7 and onwards feature one sister in western wedding dress.
Inside Covers
Each volume has an illustration of a flower bouquet with the series' romanized title (stylized as "5toubun no hanayome" in the Japanese volume, "the quintessential quintuplets" in the English version), author name, and volume number inside it.
The filler page has a picture of a diamond ring with the word "5toubun no hanayome" (Japanese volume) or "the quintessential quintuplets" (English volume) in the middle.
Character Introduction Page
Every volume has an introduction about the Bride, all five Nakano Quintuplets, Fuutarou, and other characters. Each girl's introduction box contain various miscellaneous info about them and differ from volume to volume. There is also a "Quints Memo" box describing the Nakano Quintuplets' personalities and traits.
Special Extra Comics
A two-page shorts near the end of each volume, featuring the Nakano Quintuplets' daily life.
Next Volume Preview
A page that contains various cutscenes from the upcoming volume, author notes, editor commentary, and any announcements related to the series.
English Translation
Kodansha publish the series digitally under their Kodansha Comics imprint. The official title used for the English release is "The Quintessential Quintuplets". There is no significant difference between the Japanese and English version, except Fuutarou's name that is romanized as "Futaro".
Reception
> Related Article : 5Toubun no Hanayome Commercial
In 8 August 2018, 1 year after the series' publication, the sales reached over 700.000 in prints (for 5 volumes).[40]
In 24 October 2018, the sales reached over 1 million prints (for 6 volumes).[41] Volume 6 of the manga sold approximately 48,379 copies in the first week.[42] Volume 7 sold for 95,580 copies in the first week.[43]
Negi also likes to post 5Toubun no Hanayome's material in Twitter, using his own personal account or the series' official account. As of January 2019, the series' Twitter[44] had more than 55.555 followers.
Promotional
Ayane Sakura voiced the 5 sisters in the 30 seconds manga commercial.
Trivia
Negi likes to draw shoes (or feet) and dedicate a single panel for them. Those panels serve various purpose to the story, such as showing character's emotions, an important activity/event, and progressing the plot. See Negi's Shoes Panel
The flower petals' color in the background of Volume 2 to 6 represent the sisters' color scheme:

Light yellow for Ichika's jacket
Dark purple for Nino's ribbon & sweater
Light blue for Miku's headphones & sweater
Light green for Yotsuba's ribbon & tie
Red for Itsuki's sweater
Negi sometimes use certain topic to start and finish the volumes.

Volume 1 : First chapter, a Nakano sister sees half-naked Fuutarou. Last chapter, Fuutarou sees a half-naked Nakano sister.
Volume 2 : First chapter is about a Nakano sister and Fuutarou's photo. Last chapter is also about a Nakano sister and Fuutarou's photo.
Volume 3 : First chapter Yotsuba waves at Fuutarou. Last chapter Yotsuba also waves at Fuutarou.
Volume 4 : First chapter is about the Nakano Quintuplets' finger game. Last chapter each of the Nakano Quintuplets hold Fuutarou's finger.
Volume 5 : First chapter is about Rena in Fuutarou's imagination. Last chapter is Rena in real life.
Volume 6 : First chapter shows Rena's goodbye to Fuutarou. Last chapter shows Fuutarou's goodbye to Rena.
Volume 7 : First chapter the Nakano sisters watching a love confession in a TV drama with Fuutarou. Last chapter a Nakano give a love confession to Fuutarou.
References